Review
The AppyTV Review

By Sean Willis 31 October 2016 - 14:59 GMT
Verdict

With its attractive price tag, the AppyTV is much cheaper than most rival streaming boxes on the market with the huge added bonus of having built-in Free to Air digital TV (Freeview or FreeSAT) . The box is small and unobtrusive; the interface is functional and snappy; the channel selection is unrestricted and unparalleled; and the additional features have real utility for hardcore and casual users. Couple this with the smart Airmouse, navigating the AppyTV box is a real pleasure. Whilst the system lacks intelligent search features and the overall experience is just a few iterations away from being perfect, these shortcomings do very little to detract from what looks like one of the promising entry level streaming players on sale today.
First thoughts

The AppyTV is a streaming box that lets you access a ton of streaming options- think BBC iPlayer, Netflix, YouTube, Kodi. Enjoy your own library of media files on your TV screen - from a single platform. AppyTV has a built in digital tuner available as a Freeview or FreeSat configuration. Designed to provide unrestricted app based entertainment, the AppyTV claims to have it all: 1080p resolution, HD support, Dolby digital audio, a snazzy and functional Air remote control, and more than thousands of streaming apps and channels.
Is it a one stop shop for your entertainment needs once you set it up? Does it really live up to its billing? Let's delve deeper and find out in this hands on review.
Specs
Design and Hardware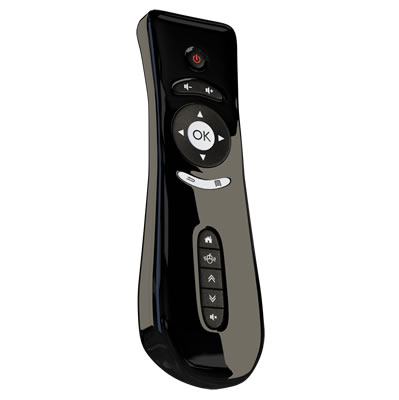 The AppyTV box isn't anything exceptional, but it has a solid, reassuring feel to it. Minuscule in size, the box weighs just about 180 grams, not that you'll be carrying it around. But that design certainly makes for a very small box that, on the surface, doesn't quite suggest the power that it has within.
Cramming an Amlogic s805 quad core Cortex A5 processor with a Mali 450 GPU, 1GB RAM and 8GB of storage, it hits the right notes if you're looking for an affordable entry level streaming media player within a reasonable budget. There's support for HD streaming at 720p, and 1080p resolution along with 5.1 and 7.1 Dolby digital surround passed through the SPDIF and HDMI cable. More on that later.
The side panel of the box sports four USB ports, a microSD card slot and a narrow turquoise blue status light, whilst the back hosts an HDMI port, an Ethernet socket, input and output ports for Freeview/FreeSat channels (depending on your version), and a CVBS/L/R connector. A lot of that wired connectivity is what gives the AppyTV an edge over its rivals. But it's not just about hard-wired connectivity- Wi-Fi is readily available for those that prefer to stream content over the airwaves. Overall, it's great for a device designed to live close to your TV.
The box includes its HDMI cable, a remote control with keyboard, a user manual and 4 AAA batteries. Also included is an ergonomic, incredibly lightweight Airmouse, which is a breeze to set up: plug in the USB receiver to the back of the AppyTV box and voila. Despite its thin profile, it is sturdy, well-built and feels good in the hand. Note: Its slender design may feel a bit awkward for those with big hands; however I found it quite comfortable enough.
Unlike other remotes, the Airmouse doesn't have a surfeit of buttons. The power button and the volume buttons fill out the top two rows, with the 4 way directional track pad and an OK button underneath. The menu and back buttons occupy the row beneath that, and then there is a strip of buttons right below to help speed up your navigation and that includes a home button, a scroll up button , a scroll down button and a mute button.
Special mention goes to the pointer functionality with motion control, which works on a simple premise (swipe and click). To navigate through screens you'll need to use the swiping motion. This is how it works: select the pointer button, hold the OK button down and swipe to move up and down the screen or from one side to another.
The weeny airmouse is powered by a couple of AAA batteries which give it a really long battery life. It's a shame you cannot plug in a pair of headphones and listen from afar or tweak the remote and customise its controls, but I think it is incredibly rude to expect a device this cheap to do something that its pricey rivals don't do very well.
Software and Interface
The AppyTV runs the latest version of Android Kitkat. At this point anything less than Android Lollipop might be a little disappointing but it seems the box will be regularly updated with new features and fixes. What's more, the Appy TV subscription, which includes the media player, comes with a guarantee that your box won't ever be locked down, meaning you are free to search and load any app as long as you're subscribed. Fair enough.
Speaking of the interface, the AppyTV demonstrates its "minimalist" approach that combines hundreds of online streaming services and apps into a unified front. It does so using a crisper and bigger UI than its rivals, and as a result, it is easy to follow and pick whatever you want to watch.
A lot of thinking has gone into keeping the main interface simple and intuitive. On the home screen there is a smart assortment of live TV, on demand content and catch up services in the form of BBC iPlayer, TV, ITV and Netflix on the home screen. The rest of the apps are neatly packaged and buried into folders like Entertainment, Utilities etc right below.
That being said, in a diss to classic TV-watching habits, there's no way you can skip to the next channel from what you're currently watching; you've to jump back to the interface. Aside from this, the interface is simple and well customised for a solid 10-foot user experience from the couch, and puts as few barriers as possible between you and your favorite content.
Whilst the software lacks intelligent search capabilities including cross app search and browsing options, it has a few strong arguments to be made in favor of it. Most importantly, where the AppyTV has a clear advantage over an enormously popular streaming box like the Amazon FireTV is that it is KODI optimised. This means that it includes the ability to install plug-ins and add-ons to stream from an array of services including Spotify, Amazon Prime Instant Video etc. This also ensures that the device always runs smoothly with the latest updates and supports high definition streaming at faster speeds.
Wading through menus is quite simple, with separate screens dedicated to live TV, on-demand services and recordings. Of all the apps, the Netflix interface is pretty simple and clear. Thumbnails neatly ordered into rows let you make a quick selection of your favourite movies and programmes by category such as Trending Now, Action, Adventure, Wacky Comedies, and Romantic Comedies etc. Every time you select, a right hand panel spits out a synopsis of the content and rating for the same.
A streaming box shouldn't just be about one internet streaming service and the AppyTV also has YouTube built right in. It also has an attractive interface, presenting a good number of videos as a strip of thumbnails. It also allows you to browse stuff by category, and comb YouTube's huge catalog for your favourite content.
Apps and Content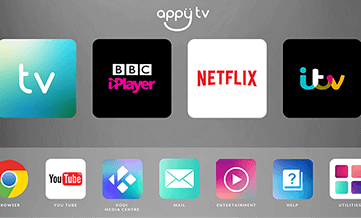 If there is a streaming service online, there's a good chance that the AppyTV supports it. From Canadian live TV shows to the likes of Netflix, the AppyTV offers a smorgasbord of apps and channels, proving to be the inspiration for cord cutters who have ditched their cable contract.
The plethora of apps include on-demand content, live TV and catch up services, free Internet video and music apps etc. Because the AppyTV doesn't have its own streaming media service, it doesn't have to keep its content pinned to the home screen, as Apple and Amazon do with some content providers.
Quite impressively, some of the best apps are grouped and baked right into the AppyTV's core platform, so you can find just about any live and on demand content all from within the same interface. The AppyTV has channels for all kinds of content, letting you discover best picks, no matter which streaming service they're on.
Unlike other boxes, it includes an aerial socket to let you access over 70 channels and also makes it possible to record or pause live TV. The only gripe is that you'll frequently get shown content for streaming and subscription services that you haven't subscribed to and don't pay for.
The AppyTV also boasts of limited content casting/mirroring ability. With the right network connected device (say NAS) and a compatible app to go with it, you can mirror your content on the big screen. But since almost every app can be downloaded and installed directly in the AppyTV, there isn't a huge need for casting videos and music as there is for the Chromecast, which solely relies on that method and enabled apps to get content streaming on the device by any means.
If you are someone who has tons of personal media files that you'd like to enjoy on the big screen, you can load them all into the AppyTV by slotting in a USB drive into the port on the rear panel of the box. If you're running short of space for all those videos, music files, images and games, stick a microSD card in the slot and you should be fine.
Feel bored and want to check out some random stuff on the internet? You've a Google Chrome browser ready to roll. With this box, you are just one click away from Google Play store so you can be sure your favourite app is just one click away.
Performance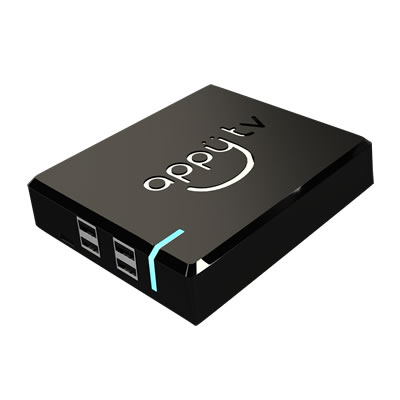 The AppyTV is not the most powerful devices out there, but it makes sensible use of its raw processing power to support the greatest and latest audio and video innovations.
On my standard internet connection, 1080p HD content looked great and the AppyTV had absolutely no problems serving up high quality streams. I put it to the test by streaming videos at max speed and there was no perceptible difference. In fact, I observed most streams stabilising at full HD within 7 seconds or so. It helps that the streaming box supports latest HDMI speed specifications, as well as 1080p outputs.
You can also transmit Dolby Digital surround with an appropriate setup. The sound quality isn't out of the world; however you still get to enjoy that full-blown cinematic experience.
Hopping from one menu to another feels quite swift and responsive, and loading apps takes just a few seconds. Netflix performance was top notch with the AppyTV, booting up almost instantly and content playing back with no noticeable load times.
In the same way, seeking ahead or rewinding between scenes was buffer free, making the overall Netflix experience miles better than the other streaming media players and a notch above the rivals.
As with the other streaming boxes, the picture quality and responsiveness largely depend on the internet connection and on the particular app/channel provider. Having said that, its dual band Wi-Fi antenna is particularly good at establishing connection and holding on to it whereas connected smart TVs, blu ray players and game consoles have flushed it.
Depending on your setup, however, this could mean better streaming with superior picture and sound quality than you get from some devices of its ilk.