Review
Amazon Fire TV Stick Review

By Sean Willis 17 October 2016 - 18:36 GMT
Verdict

It is snappy, packed with power and has a buttery-smooth, intuitive user interface, but it loses to its crony (Roku) when it comes to sheer breadth of content. Remember, a Roku stick costs more and doesn't come bundled with an HDMI extension socket. Whilst it has its own share of hits and misses, it is one that any streaming enthusiast will be happy with.
If you're a Prime member, the Fire TV stick is a great device to consider, and, on several counts, a better value for money than the costly FireTV box. If you don't have a Prime Instant Video subscription or are not going to sign up for one, it may not be the best streaming stick for you.


First thoughts
Amazon has joined the likes of Roku and Google as a provider of tiny, stick-like streaming dongles with the Fire TV Stick. Like the Roku stick and the Google Chromecast, the Fire TV stick is a tiny media hub that you can stick into your TV's HDMI port and use like any other streaming device.
It is a stripped version of the Amazon Fire TV, lacking its big brother's excellent speed and built-in voice search enabled remote, but offering a cheaper price tag and a smaller form factor.
It might be the best media streamer for all Amazon Prime subscribers out there, and even if you're not a member, it still provides a fair chunk of content, apps and features.
Let's dive in and find out more about the latest pocket-sized streaming device from Amazon.
STOP PRESS: New Fire TV OS to block Kodi
Specs
8GB Built in - expandable storage
Design and Hardware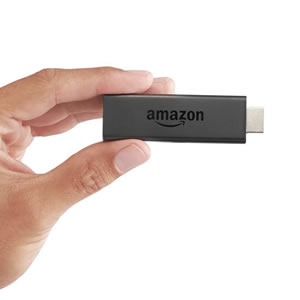 It's a tiny, unassuming, unobtrusive matte black device, barely larger than a USB thumb drive.
But it's what's under the hood that stands out. Isn't it?
The makers have done a great job to cram a powerful dual core Broadcom processor and GPU into this dongle in addition to 8 GB of storage and a number of wireless radios. Maybe it isn't just the same powerful hardware as the Fire TV, but it's certainly a great advancement from devices like the Chromecast or the Roku stick.
Not only is it able to crank out HD videos at an impressive rate, but it also lets you play some basic, casual games. Although it is pairable with a Bluetooth gaming pad, this device is just not designed to be packed with gaming goodness. That's precisely why you won't find graphically pleasing games.
The beefy hardware has Dolby Digital Plus support so you can enjoy superior sound performance if you have a well equipped surround sound system.
Let's look at the pack-in remote that sports a minimalistic design and works with Bluetooth. Available in matte black, the remote consists of a circular directional pad, special keys and buttons for media control and selection. It is on the smaller side, weighs next to nothing, and leaves quite a lot to be desired with regard to some nice features.
Firstly, the Fire TV stick with the standard remote doesn't feature the built-in microphone for voice search so you cannot shout some commands into it to find stuff you want to watch. If you think that is one feature you cannot afford to miss, download the Fire TV Remote Android app on your smart phone or cough up some money to get that full-size dedicated remote with mic and voice search capabilities. If you're a sucker for ergonomic design and detail, you'd not appreciate the feel and finish of this remote control. Nevertheless it does its job though.
Another gripe with the stick itself is that the placement of the micro-USB power port is on the side and not on the end. This means that you need to rearrange the HDMI cables if you've got quite a few things plugged in already. Thankfully, the flexible, included HDMI extender allows for some wiggle room and lets you stream away without any Wi-Fi connectivity issues.
Apps and Content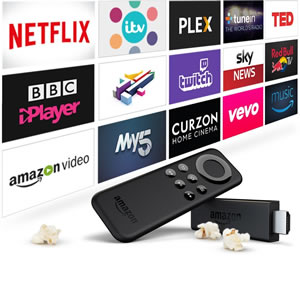 Whilst an Apple TV user has to contend with too little content to choose from, Fire TV stick users have a host of apps at their disposal. All major streaming subscriptions are here and well accounted for: BBC iPlayer, Netflix, Sky News, etc.
You can also find many games on this miniature device, and, generally, the casual, less demanding game titles play well just because they're less resource intensive.
Access to the App Store on Amazon means you can now enjoy on-demand and catch-up services as well. Some of the popular apps include BBC Sport, ITV Hub, Channel 4, Demand Five and Spotify Connect etc.
Quite unsurprisingly, Amazon's prime video and libraries are in the forefront, seamlessly integrating into the 'Movies, TV and Music' menus whereas additional streaming options are buried somewhere else in the 'More Ways to Watch' menu. More importantly, it can be a little frustrating that you cannot filter out pay per view shows- keep your eyes peeled for the Prime logo on the media thumbnail to make sure it's included in the Prime subscription.
Software and Interface
Whilst it's essentially a version of Android, the new Fire OS software is redesigned and reengineered to be totally HDTV friendly. The stick also brings a snappy and easy-to-use interface to any bog standard HDMI TV.
The Fire TV stick and the Fire TV have an identical interface, where media and app categories are vertically stacked on the left, and easily navigable rows of entertainment options on the right. The similarity doesn't end there. When you finally get around to deciding what to watch, the stick predicts what you're likely to watch next, and cues it up. Moreover, it pulls relevant data from IMDB about the cast list information, filmography of the actors as they enter and exit the TV screen.
Menu screens populate in an instant and some smart onboard video tech gets videos started quickly. The promising pre caching tech ASAP is ambitious yet unconvincing; at times, the movies and TV shows play instantaneously, without a trace of any loading screen. However, typically, you'll still see a brief page indicating that the selected content is loading.
Other than the issue of modest wait times, the UI seems pretty smooth and apps do not crash quite often. Having said that, the Fire TV is not just quite responsive as the Roku stick yet- I put that down to the improved Android version running on it. As you guessed, it's more resource intensive than the slimmed-down, Linux software of the Roku.
Performance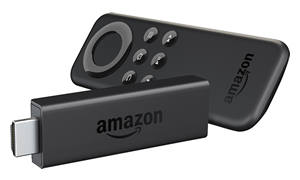 The Fire TV stick isn't as powerful as the full-sized Fire TV which is to be expected. But it's more noticeable especially when browsing through the various menus or quickly jumping from one service to another.
Amazon Instant Video is unbelievably quick to load and play videos but the same cannot be said about Netflix or YouTube. Jumping back and forth between services, at times, demanded that I reloaded the apps completely.
As for gaming, you can't expect to have a smooth experience playing a seriously demanding game on the stick. That said, you can more than make do with playing the basic games you'd find on your smart phone. The games available to play aren't runaway hits, but it's nice to have free family fun games which are optimised for the TV screen.